IRS Back Taxes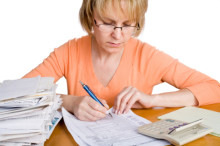 Unpaid taxes are far from a trivial issue. When you, or your business, have fallen behind with late tax returns or delinquent taxes, you could soon find yourself facing substantial repercussions from stiff fines and accumulating state or IRS tax penalties. But you don't have to continue down that path of financial destruction any longer. With one call to Acello Tax Resolution Group, you can stop the progression of your back tax debt and work out a solution to put your unpaid taxes in the past. Sit down with our tax assistance team today to discuss your back tax situation. Call now to make an appointment!
No matter what stage of back tax trouble you're in, it can be a definite advantage having a whole network of qualified professionals at your disposal. That's the beauty of hiring Acello Tax Resolution Group to be your tax help resource in the Columbus area. Even if your unpaid taxes have risen to the level of harsh levies or wage garnishments, we can pair you with a competent advocate skilled in the negotiation of back tax issues. Our experienced professionals range from enrolled agents to tax attorneys to CPAs. We can also provide tax preparation services if that's what it takes to resolve your back tax burden.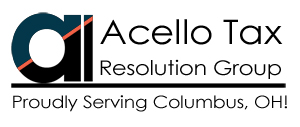 Based on your particular circumstances and the amount of back taxes you owe, some of the tax resolution options available to you can include:
Abatement of tax penalties
Installment payment plans
Offer in compromise petitions
Innocent spouse relief claims
Although the hardship of back taxes is enough to rattle anyone's nerves, it doesn't have to ruin your financial future. As a comprehensive tax relief team, Acello Tax Resolution Group is fully equipped to provide every aspect of your personal or business back tax resolution, including filing back taxes, representing you before state or IRS tax authorities, and structuring suitable tax settlements. Think of us as your one-stop solution for professional back taxes help. Rather than add to your stress by searching for a qualified expert, simply pick up the phone and tap into our network of talent. We aim to plan the best possible strategy for reducing or even eliminating your back tax debt, and we have a great group of negotiators waiting to make it happen.
Back Tax Expertise
Time is against you when it comes to back tax troubles. The longer you allow your delinquent taxes to go unpaid, the harder it is to make your back tax problems go away. So don't let your state or IRS back taxes spiral further out of control. Contact Acello Tax Resolution Group as soon as possible to connect with a team of tax help professionals dedicated to closing the books on your back tax debts. You can put a stop to your growing back taxes: Call for tax assistance now!
Back Taxes
Filing Back Taxes
IRS Representation
Back Tax Return
Owe Back Taxes